Education > Moss Picks > January Top 10 > Saw Palmetto
Saw Palmetto: Serenoa repens
click on photos for larger images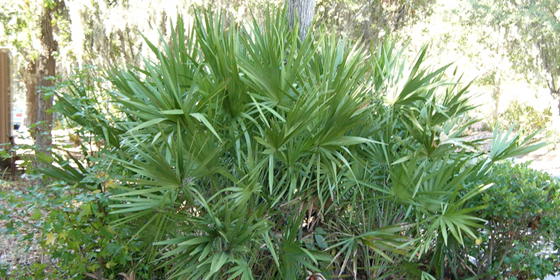 Family: Arecaceae

Above: bush in landscape, Below: slash pine understory
Use: screens, informal hedge, foundations, woodlands, shady gardens, parks, coastal landscapes, wildlife cover

Plant: evergreen, rhizomatous palms to 8', in perfect conditions can form trunk to 20'. One of the best longevities among palms, capable of exceeding 600 years.

Origin: southeast USA along coast and interior forests

Zone: 8 - tropics

Flowers: hanging sprays of tiny, cream flowers. If pollinated, female flowers form black fruits used medicinally

Foliage: large palmate leaves with saw toothed petioles.

Culture: sun to part shade. Rich, well-drained soil. Mulch with pine needles or compost. Shade, salt, and drought tolerant.