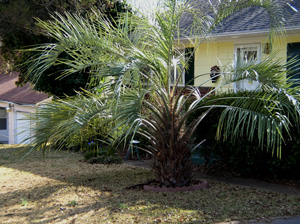 Plant: evergreen feather palms to 20'
Origin: Brazil, Uruguay, Argentina

Zone: 7 - tropics

Flowers: hanging sprays of tiny, cream flowers. If pollinated, mature specimens produce edible red and yellow fruit.
Foliage: silvery, large, leathery, pinnate leaves. Bark patterned from course "boots" of old leaf petioles

Culture: sun to part sun in a sheltered location. Rich, well-drained soil. Mulch with humus or compost. Drought tolerant when mature. Fertilize in spring and summer.